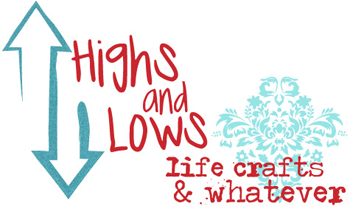 I'm linking up and participing in the High and Low linky party! What a perfect post for a Monday!! It's a nice simple link up where you share the highs and lows of the last week. Here we go!
.:.Highs.:.
-our plumbing is FINALLY working like it should again!! Yay, yay, yay!!
-I got all my seeds planted, except for my herbs, and flowers, I just haven't found where I want to put them yet
-amazing, and I mean, truly amazing weather
-a lovely date evening with my husband
-ridiculously cute kittens learning to run, hunt, play and climb
-a fun mini fishing trip with my husband-I caught 7 catfish, and he got 4-and I threw in one of our nets and caught 27 tadpoles at one time!!
-starting my first ever hand quilted quilt. We'll see how that goes!
.:.Lows.:.
-not having plumbing for a week takes its toll, I have TONS of laundry to catch up on, dishes to do, floors to mop, and not to mention other random cleaning tasks waiting to be done.
-only 3 more weeks until the kittens have to get new homes, we're debating about keeping one

-rolling down a window on our "new" car only to find said window is messed up and will not roll back up!

-finding out the peas we planted got eaten by gophers/moles

-family drama

Feel free to link up!!! Hope everyone has had a great week and will have a great week this week!!