Click HERE to see the other reasons I love my husband!
Before being a full time housewife, I worked customer service. One of the biggest lessons we learned was that people were much more likely to tell others about their negative experiences versus their positive experiences.
Are you doing this in your marriage?
I'm challenging myself, and anyone else who would like to participate in joining in on my "365 Reasons I Love My Husband." No, you don't have to blog all 365 reasons at once! You can include a reason a day, do a blog post a week, or one big one once a month. I'm going to be doing one post a week, that will list out 7 things I love about my husband. Each week I'll be adding a linky tool so that way you can link up your post so myself and others can stop by and check it out! I hope this challenges you to focus on the good things about your husband, instead of lingering on the few faults he may have. Well, what are we waiting for? Here are my first 7 things...
1. I love my husbands sense of humor. He can ALWAYS make me laugh, and never takes life too seriously.
2. I love my husbands ability to fix things. Sinks, cars, trucks, Christmas tree stands, you name it, and he can fix it.
3. I love how patient my husband is. Not only is he patient with me, but he is patient when the dogs and cats get challenging. I also love the fact that when things are too frustrating for me (for example, a tangled necklace), I can hand them over for him to take care of.
4. I love how tall my husband is. A whole foot taller than me!
5. I love the fact that my husband is not a sports fanatic and has never, and will never spend a whole day watching football/basketball/baseball, etc.
6. I love how well my husband provides for me and the furbabies.
7. I love how even on the coldest days my husband is always warm. I joke he's like Jacob from Twilight!
I hope you will join me in this, please link up your posts below so I can stop by, take a look and leave a comment! If you do decide to participate, along with adding your link below, please add my button to your blog post!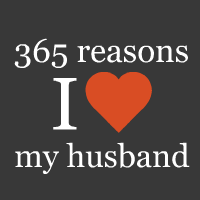 ((I'm using
Inlinkz
as my linky tool as apparently you now have to have a paid subscription to use linky tools.))